Online Therapy Jobs & Online Counseling Jobs
Are you a qualified therapist looking to expand your network? If you've ever thought of becoming an online therapist and are looking to learn about the available opportunities, then you're in the right place!
Since the advent of the internet, many businesses and services have moved online, including therapy offices. Providing counseling services online has made the job not only easier but has also allowed therapists to service more clients. Continue reading this page to learn more about becoming an online therapist on Better Help or Talk Space.
Online Therapy Jobs
Teletherapy is becoming increasingly popular. As nearly every service becomes available online, more people are looking for online therapy sessions and counselors. Online therapy has become a booming business and a great one to get into if you are interested in becoming an online counselor. You will get to perform the same tasks as an in-person counselor but from the comfort of your own home.
You can typically find online therapy jobs on numerous platforms, and you can either be employed by the site, or you can work as an independent contractor. Depending on your level of experience and skills, you may find that one or the other is right for you.
Advantages of an Online Therapist
With the steady increase of mental illness cases in the US, online therapy jobs have been rising. Here are some benefits you'll enjoy as an online therapist:
1. Reliable Income
Top online therapy services handle thousands of clients every month, which allows you to earn a steady income whether you sign up as a full-time or part-time therapist. So instead of trying to find enough clients to build your practice, partnering with an online platform might be your best option to secure reliable income.
Even though the amount of money you make per hour will depend on the service, many competitive platforms do offer wages within the national average. However, some other platforms may keep their services inexpensive for more budget-conscious clients.
2. Focus on Counseling
When using an online therapy service, you don't have to worry about billing clients or setting up a support system. Instead, you can just focus on providing counseling services. The platform handles the rest, allowing you to focus on what truly matters: your client's mental health.
If you are new in your career, it may be beneficial to use a platform for extra services. Instead of worrying whether you billed the individual correctly or if their insurance will cover the session, you can focus on the counseling and give your clients the proper care.
3. Work Flexibility
Rather than having to sit in the office all day, you can offer counseling from the comfort of your home and at your schedule. So if you have kids or other obligations, working as an online therapist may be an excellent choice.
Additionally, you can work full or part-time depending on the week, and you can decrease the number of appointments made if you need. The flexibility of being an online counselor is one of the biggest perks.
4. Complete Package
Online therapy services will provide you with all the necessary tools to provide solutions to clients. You don't have to worry about installing or setting up software and apps as they will handle the technical stuff and leave the counseling to you.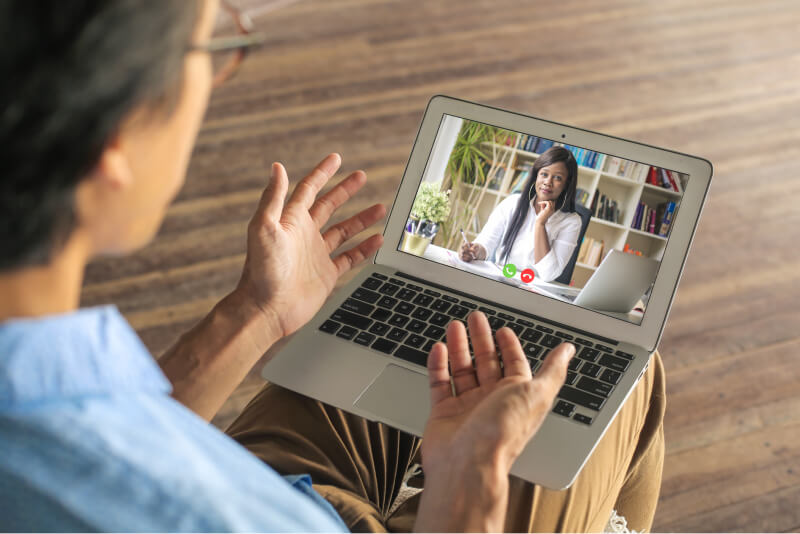 Apply to BetterHelp Apply to TalkSpace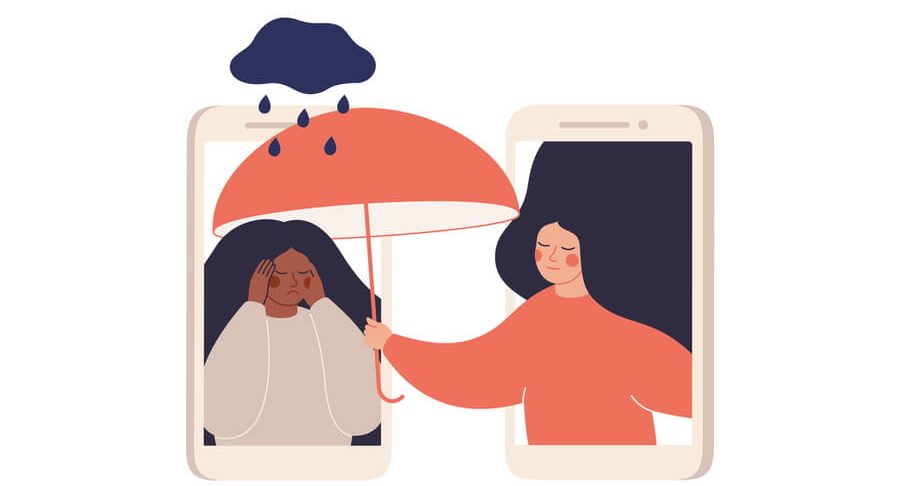 How to Become an Online Therapist
The best way is to join Better Help or Talk Space. Both Better Help and Talk Space offer user-friendly platforms for online therapists to communicate with people suffering from mental health issues. Here is some helpful information about both platforms.

Founded in 2013, Better Help is one of the leading online portals providing online counseling and therapy services through phone, text, and web-based communication. They currently support more than 10,000 clients every month.
Requirements for joining the platform:
Be licensed by a State Board,
Have experience in counseling
Possess excellent writing skills
Have a right to work in the US.
How do you apply for a job:
To apply, you need to fill out the online application form. After submission, you will be contacted on the progress of your application. You will need to submit all of your licensure documents so that the platform knows that you are licensed to practice as a counselor.
How Much Do Online Therapists Make on the Platform?
On average, Better Help therapists make around $30 per hour, but you can earn more depending on the service you offer. Because the national average for a therapist is about $28 to $35 per hour, hourly pay for Better Help is right on par with this average range. So if you are looking to become an online therapist and like competitive pay, Better Help may be a good choice.
Pros and Cons for working as an online therapist on Better Help:
Pros
Large customer base
A+ Better Business Bureau rating
Pays better than other online therapy platforms
Cons
Pay is lower than averages for traditional counseling sessions
Sign up process + How do you apply for a Job:
To apply for a job, you will have to visit the Talkspace official website and sign up as a provider or prescriber.

Talk Space is an online therapy service founded in 2012. It provides users with access to licensed therapists through web and mobile devices. It is one of the leading platforms to get practical online therapy counseling.
To sign up as a therapist on Talk Space, you must possess the following:
A graduate degree in psychology/psychiatry
Individual professional malpractice liability insurance policy
Individual NPI number
Complete and submit a CAQH application
To apply for a job, you will have to visit the Talk Space official website and sign up as a provider or prescriber. You will likely have to present all of your documents at this time and may need to undergo an interview for the final process.
How Much Do Online Therapists Make on the Platform?
Therapists at Talk Space can earn as much as $20 per hour, including bonuses. As mentioned above, the average salary range for a licensed mental health counselor is between $28 and $35 per hour. Because Talk Space therapists make about $20 per hour, they are significantly below this average. However, Talk Space may be an excellent place for you to get your career started and get the experience necessary to work towards other higher-paying jobs.
Pros and cons for working as an online therapist on Talk Space:
Pros
Legitimate online therapy service
Flexible working hours
Large customer base
Cons
Average pay is lower than some online therapy services
Online Counseling Jobs
Sign up process + How do you apply for a Job:
To apply for a job, you will have to visit the Talkspace official website and sign up as a provider or prescriber.
Online Counselor Jobs: Frequently Asked Questions (FAQ)
With the increase in teletherapy jobs, many counselors are switching to online therapy since these jobs have flexibility in work schedules and generally come with competitive pay. However, there are many questions therapists have before they make the switch. In this section, we will cover some of the most commonly asked questions.
How much do online counselors make?
Online counselors with a few years of experience and fewer qualifications can earn as much as $30/hour on average. With more years of counseling experience, this earning potential increases to $50/hour. Online counselors could also put in more work hours for extra pay.
What qualifications do I need to be a counselor?
In most cases, you will need a graduate degree (Master's or Ph.D.) to become eligible for licensure in your state. You will also be required to undergo two to three years of additional study, including clinical service hours after your undergraduate program. You then need to be licensed in your specific therapy field e.g., LCSW, LMFT, and/or LPC, among others.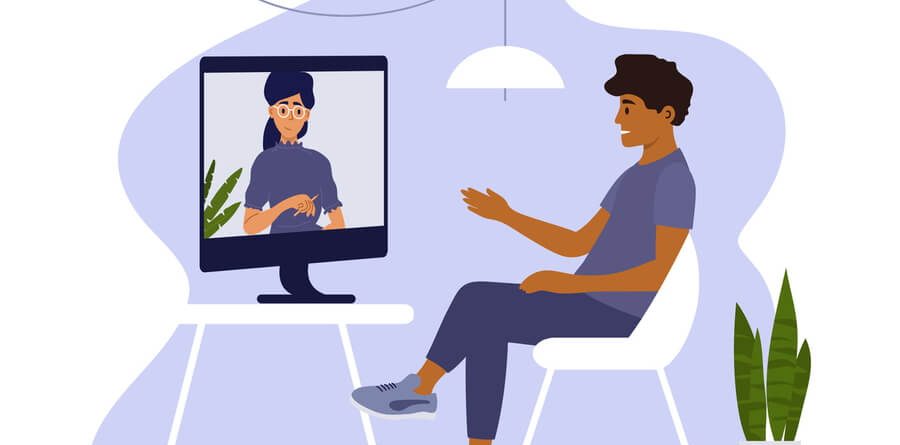 Is counseling a good career?
Of course! You could make an excellent living by offering counseling services either by practicing full-time or part-time. Unlike psychiatrists and doctors who only get to see the patients when they encounter a problem, counselors get to work with their clients throughout their mental health journey. When you are a counselor, you will start a treatment plan and will get the chance to see your client make progress. This can be incredibly beneficial to the job and help increase work satisfaction because you will feel like making a difference.
However, counseling is not an easy career. While many people think that counseling is simply you sitting there and listening to someone talk, it is much more than that. Counseling requires considerable skill to be successful. As a counselor, you need to be able to listen throughout the entire session actively. In some cases, you should expect to deal with multiple clients in hour-long sessions, which can be difficult and draining.
Additionally, you need to remember what the client said to help them make connections and reflect on their thoughts. So, you cannot be half-listening when the client is talking because you need to give me your full attention. The client will know if you are not listening and will likely feel like you are not giving them good service.
Further, counseling can be exhausting because you are going to be dealing with some rather severe conditions. If you have experienced poor mental health in your own life (and many counselors have experienced mental health problems), you may be triggered by what your client is saying. That is why self-care and taking care of yourself is an essential skill to have as a counselor. Without participating in self-care and understanding your limits, you may burn out quickly.
But, that does not mean that counseling is the wrong career for you. If you want to be a counselor, reflect on why to make sure that you are making the proper choice. You can talk to current counselors, professors in counseling departments, or shadow a counselor in action to decide if this is is the career for you.
Final Thoughts
Now that you know everything about becoming an online counselor, you may want to check out the different counseling platforms. In this article, we did discuss Talk Space and Better Help, but there are others opening up all the time. Make sure to check out our expert guides because these are likely some of the best online counseling platforms for you to apply
*THE ABOVE IS NOT AND SHALL NOT BE CONSIDERED AS PROFESSIONAL OR MEDICAL ADVICE.
We receive advertising fees from the service providers we rank below.
Advertising Disclosure